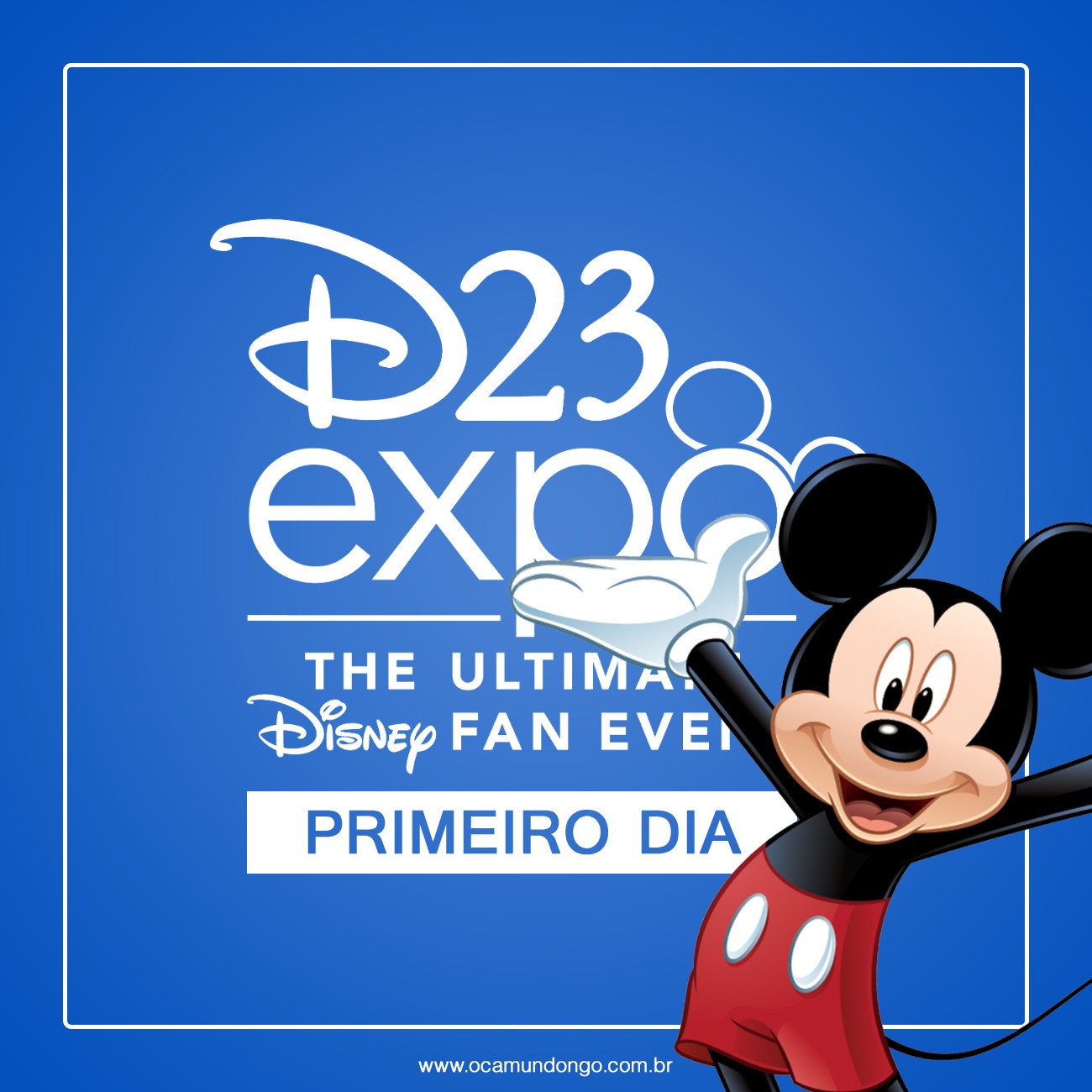 O primeiro dia da D23 Expo 2017, a convenção bienal do Universo Disney, apresentou ao público uma enorme gama de novidades sobre os próximos projetos de animação. Porém, a abertura do evento não se limitou apenas a falar sobre filmes animados. Também tivemos homenagens a alguns artistas, desfiles de fantasias, anúncios de novos livros e temporadas de séries e muito mais. Por isso, preparamos esse resumo com os melhores momentos do primeiro dia.
---

Abrindo de modo espetacular a convenção, onze artistas foram consagrados como Disney Legends. "Com Disney, Pixar, Marvel, Lucasfilm, ESPN e ABC sob um mesmo teto, temos muito para comemorar, mas ainda há muito adiante," disse Bob Iger, presidente da The Walt Disney Company. Foram honrados: Carrie Fisher (Cinema), Clyde Geronimi (Cinema), Manuel Gonzales (Quadrinhos), Mark Hamill (Cinema), Wayne Jackson (Parques), Jack Kirby (Quadrinhos), Stan Lee (Quadrinhos), Garry Marshall (Cinema), Oprah Winfrey (Cinema & Televisão) e Julie Taymor (Teatro). E surpreendendo a todos, Whoopi Goldberg (Cinema) foi a homenageada surpresa desta edição.
---

Eles costuraram, emendaram e colaram por meses e, durante o primeiro dia da D23 Expo 2017, tiveram a oportunidade de mostrar ao mundo as suas criações inspiradas no Universo Disney. A edição do Mousequerade deste ano foi marcada por incríveis versões dos personagens de Mary Poppins (1964), A Princesa e o Sapo (2009), Moana: Um Mar de Aventuras (2016) e muito mais. O júri – composto pelas atrizes Ashley Eckstein (Star Wars Rebels) e  Yvette Nicole Brown (The Mayor); e a figurinista Kara Saun (Descendentes 2) – elegeu cinco vencedores, um para cada categoria da disputa, além do melhor figurino entre todos, o qual recebeu um prêmio de US$2.300.
---

Gravity Falls (2012-2016) e Star Vs. As Forças do Mal (2015-hoje), duas das séries mais populares do Disney XD, também ganharam um painel. Ao lado de escritores, editores e ilustradores, os criadores Alex Hirsch e Daron Nefcy, respectivamente, celebraram os recém-lançados livros inspirados nas animações. "Não existe isso de um programa acabar quando chega ao fim. Se não fizéssemos livros, os fãs fariam isso de qualquer forma," comentou Hirsch em relação ao crescimento e modernização da comunidade de fãs. Por fim, foram anunciados dois novos livros: Gravity Falls the Graphic Novel e Star's Magic Book of Spells. Ainda sem data de lançamento.
---

Yo-ho! A atração Pirates of the Caribbean está completando cinquenta anos de sua inauguração e, claro, não poderia faltar um painel para celebrar esse sucesso. Participaram da apresentação: Tony Baxter, Disney Legend e orientador criativo da Walt Disney Imagineering; Orlando Ferrante, Disney Legend e antigo executivo da empresa; Kim Irvine, diretor de arte; Luc Mayrand, executivo criativo; Nancy Seruto, executiva de desenvolvimento criativo; e Marty Sklar, Disney Legend e embaixador da empresa. "Pirates of the Caribbean mudou completamente a indústria dos parques temáticos. É uma grande história contada através de uma tremenda tecnologia," declarou Sklar.
---

Whoopi Goldberg foi a anfitriã de um dos painéis mais encantadores da D23 Expo 2017. Reunindo convidados especiais como Leonard Maltin; Jeffrey Sherman, filho de Robert Sherman; Karen Dotrice, Jane Banks em Mary Poppins (1964); e Lesley Ann Warren, Cordy em Quando o Coração Não Envelhece (1967), o painel explorou as trilhas sonoras dos filmes de ação ao vivo do estúdio e como essas músicas criaram magia e encantaram as pessoas ao redor do mundo. Um coral e uma orquestra apresentaram algumas das canções de clássicos como O Grande Amor de Nossas Vidas (1961), Doce Verão dos Meus Sonhos (1963) e muitos outros.
---

Na sexta-feira, 14 de Julho, também aconteceu uma comemoração para  Dorothy, Blanche, Rose e Sophia, em homenagem ao seriado The Golden Girls, produzido pela Touchstone Television – atualmente conhecida como ABC Studios – entre 1985 e 1992. Os roteiristas Barry Fanaro e Stan Zimmerman; o produtor e diretor Terry Hughes; os designers de produção John Shaffner e Michael Hynes; e Jim Colucci, autor do livro Golden Girls Forever, se juntaram ao imagineer Morgan Richardson para uma mesa redonda sobre o grande impacto do programa, debatendo os momentos mais memoráveis das protagonistas e quais episódios marcaram mais a equipe e o elenco.
---

Leonard Maltin, historiador cinematográfico, se reuniu com Kathryn Beaumont, a voz original de Alice e Wendy; Andreas Deja, renomado animador; Karen Dotrice, Jane Banks em Mary Poppins (1964); Bill Farmer, voz original de Pateta e Pluto; Bob Gurr, imagineer; Dave Smith, fundador do Walt Disney Archives; e Mark Hamill, um dos artistas homenageados mais cedo como Disney Legend, para uma discussão sobre os trinta anos do prêmio. "Cada um de vocês deu ao público muita história da Disney. Vocês são indeléveis em nossas mentes e em nossos corações," declarou Maltin, ao final da apresentação.
---

Muitas novidades eletrizantes foram anunciados no painel da Marvel Television Animation. Entre as notícias reveladas na apresentação, estão a data de estreia – marcada para 19 de Agosto de 2017 no Disney XD dos Estados Unidos – e o elenco de vozes originais da nova série do Homem-Aranha; a confirmação de uma terceira temporada de Guardiões da Galáxia, intitulada Mission Breakout; além de um novo especial de animação, chamado Lego Marvel Super Heroes — Guardians of the Galaxy: The Thanos Threat, produzido em parceria com o The LEGO Group. As boas novas foram anunciadas por Cort Lane, vice-presidente, e Joe Quesada, chefe criativo da Marvel.
---

Walt Disney Archives Stage trouxe diversos painéis interessantes ao longo desse primeiro dia de convenção. Começando o dia, o autor e historiador Bill Cotter apresentou um painel sobre os sessenta anos de Zorro (1957-1959), cujos direitos foram adquiridos como próprio dinheiro de Walt Disney e cujos lucros ajudaram a financiar a expansão da Disneyland. Também tivemos uma visita virtual ao primeiro estúdio da Disney, o Hyperion Studio, através de fotografias nunca vistas antes; uma celebração do primeiro programa semanal a cores, o Walt Disney's Wonderful World of Color (1961-1969); e um painel sobre as mulheres pioneiras da animação.
---

John Lasseter tomou o palco do Hall D23 na noite de sexta-feira, 14 de Julho, para um dos painéis mais aguardados de todo o evento: Pixar and Walt Disney Animation Studios: The Upcoming Films. Durante duas horas, Lasseter convidou para subir ao palco grandes nomes a fim de compartilhar novidades dos próximos longas-metragens de animação já anunciados, incluindo Viva – A Vida é Uma Festa (04 de Janeiro de 2018); Ralph Breaks the Internet: Wreck-it Ralph 2 (03 de Janeiro de 2019); e Os Incríveis 2 (28 de Junho de 2018), como também revelar projetos inéditos.